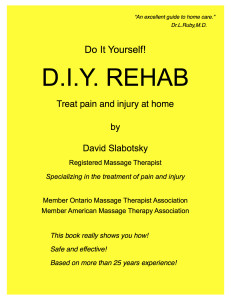 Yes, you can be be your own therapist. This book shows you how. This book gives you the information and the inspiration you need  for safe and effective therapy in your own home.
This book is written specifically for people who need to recover from an illness or injury. This is not just another exercise book.  There are basic exercises for people in the first stages of recovery. There are challenging exercises for people working on muscle strength. There are special exercises for people with disabilities.
This book is filled with inspiring advice about how to best recover from an illness or injury,  physically and emotionally.
David Slabotsky, R.M.T., has been treating pain, injury, and disability for 30 years.